Shipping & Returns

SHIPPING
Most orders are shipped by the next business day from our location, Kansas, USA.
Shipping rates are calculated based on estimated package weight and shipping destination. Flat-rate is available for qualifying orders. Shipments can be sent to both PO boxes and Military APO/FPO addresses via USPS only. Delivery times are based on when orders leave the soccerium's locations. You can see available shipping methods and estimated delivery times below.
              Economy Shipping: Typical transit times are between 2-7 business days.
              Standard Shipping: Your package will be in transit up to 5 business days.
              Expedited Shipping: Your package will be in transit 2-3 business days.
              Rush ( Express) Shipping: Your package will be in transit 1 business day.
       *Transit times do no account for order processing time. Please allow additional time for order processing.
EXPRESS SHIPPING
You can select: Next Day Air, 2nd Day Air Shipping during checkout.
Please note that orders must received before 12:00 pm (CST) to ensure proper processing of express order in the same business day. There is no guaranteed express delivery for Saturdays and Sundays. If you require Saturday delivery via Next Day Air only, there will be an additional charge for this service. We do not offer over night delivery to PO boxes.
SHIPPING DELAYS
Shipping delays may occur during busy holidays or during the winter season. We are not responsible for weather related or shipping delays cause by shipping carriers.
SEPERATE SHIPMENTS
Due to size and weight limitations, orders may arrive in more than one package. Please allow a few days for all packages to arrive before reaching out us regarding your order. The number of packages shipped will be indicated one the shipping labels and on your invoices and separate tracking/shipping information will be provided.
RETURNS
We offer a full money-back guarantee for all purchases made on our website. You are eligible for a full reimbursement within 14 calendar days of your purchase. Exclusions apply that are included personalized items, all player jerseys, any customized products, visual media products, collectibles and clearance items. All sales are final in these selected categories and the products.  

After the 14-day period you will no longer be eligible and won't be able to receive a refund. We
encourage our customers to decide on their return in the same week of the delivery. Any type of return will be completed in your own expense. 
The product must be in the same condition that you receive it and undamaged in any way, no signs of use or worn. All applicable tags, accessories, box and packaging would have to be returned ( and in the same condition as brand new) back to us along with the product. 

After we receive your item, our team of professionals will inspect it and process your refund. The
money will be refunded to the original payment method you've used during the purchase. For
credit card payments it may take 5 to 10 business days for a refund to show up on your credit
card statement.

If the product is damaged or used in any way, or you have initiated the return after 14 calendar days
have passed, you will not be eligible for a refund. And you will be asked to cover the freight charges to receive the original order back. 
All returned footwear has to be shipped in its original box by using a separate shipping box. Any tape or label on the original product packaging will eliminate your chance of completing the return ( please see below illustration for more information)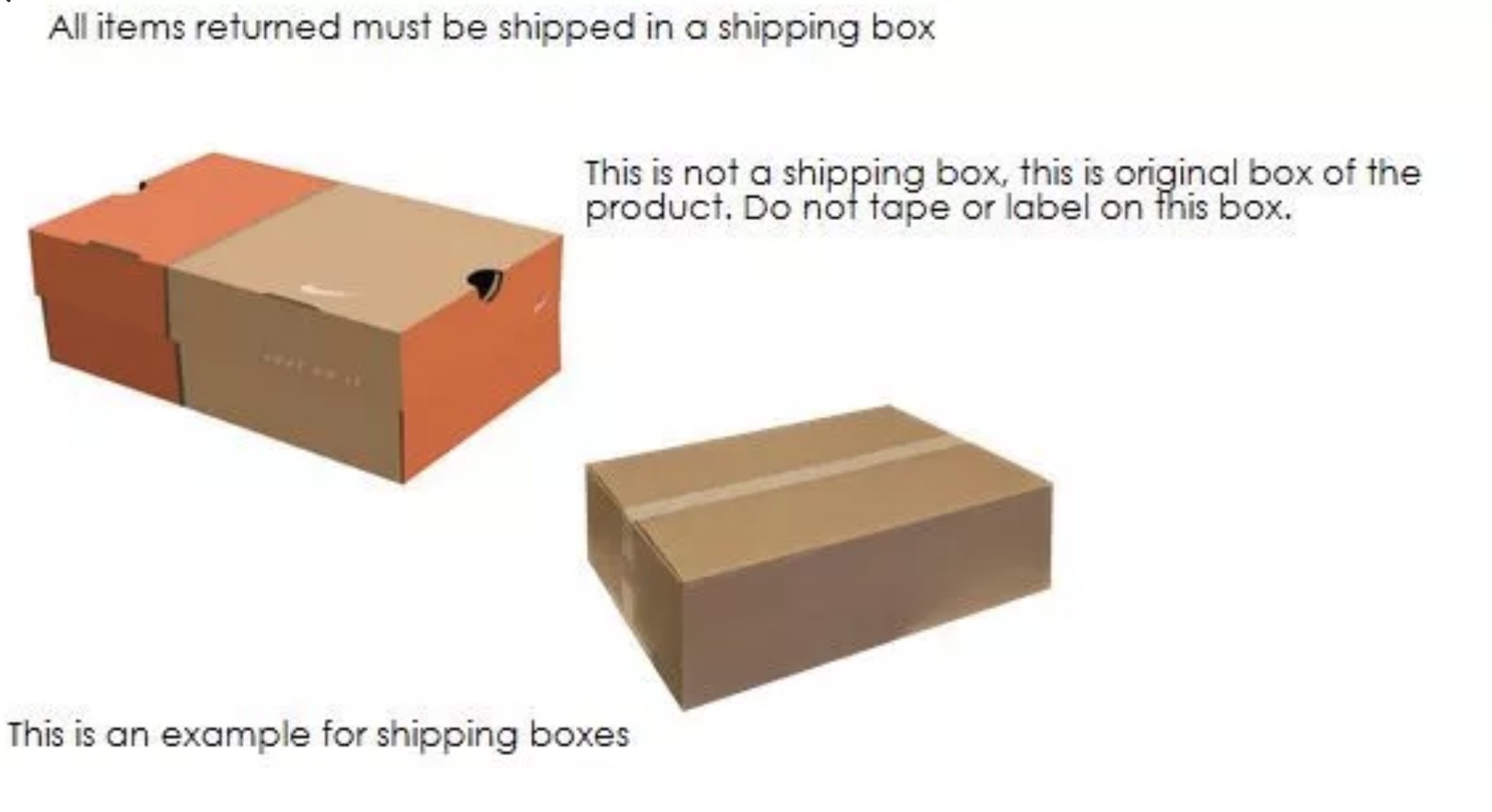 If anything is unclear or you have more questions feel free to contact our customer support
If you have any additional questions or would like to request a refund, feel free to contact us.